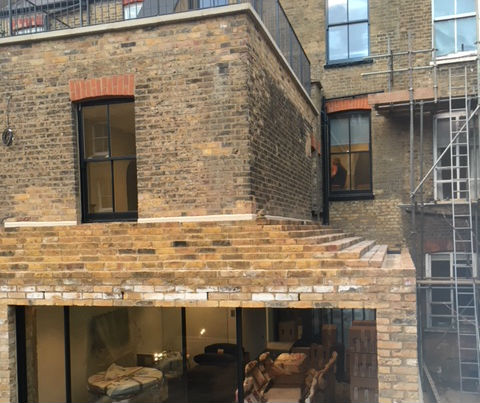 Hot on the heels of our BrickCloak Soffit system providing the red glazed brick showpiece section of the Best New Large Building winner at the Cambridge Design and Construction Awards 2017, our BrickCloak system has achieved yet another industry accolade.
"The Step House" which was highly commended for innovation at the 2018 Brick Awards adopted our system to realise an amazing stepped ceiling design in its renovation. "Step House" was also featured in the July 2018 edition of the Grand Designs magazine.
Working with contractors Argyll and Architects Bureau de Change, we delivered an innovative reflected stepped panel system, conceived in CAD and delivered in the flesh to exacting design requirements. 
The brick type adopted was a London reclaim, in-keeping with the aesthetics of the original house. A demanding brick to adopt into a repeatable panel system due to its very wide dimensional tolerance. The overall ceiling consisted of 6 different panel configurations, with further panel types adopted in other areas. 
The flexibility of our BrickCloak system was a key contributing factor to the success of this project.